Pilates/Strength Classes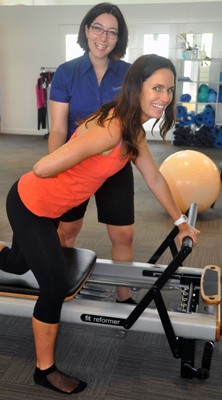 Here is a list of the exercise classes that we provide at Hinteractive Physio. You can contact our office for more information or CLICK HERE to view our classes timetable.
Ladies Safe Strength
A focus on strengthening those troublesome lady areas – arms, tummies, pelvic floor, and butts. Done in a safe, controlled way to avoid strain on the pelvic floor and abdominal wall. Suitable for post-natal, those returning to exercise or recovering from injury. (45 min duration)
Pilates Mat
A group class using pilates principles to achieve increased core stability and movement control. Pilates was developed by Joseph Pilates during World War 1 to assist injured and bed ridden patients. Pilates improves postural control, flexibility, muscle endurance and posture to name a few.  This class focuses on softening and releasing tight and overused muscles and activating and strengthening intrinsic or core muscles. This allows for a more efficient and controlled exercise. (1 hr duration)
Pilates Equipment
Pilates exercises utilising reformers and other equipment to further challenge the body and optomise function. Small groups of 4 in a class. Private Pilates Equipment classes are also available on request.
 Yin Yoga
Most forms of Yoga today are dynamic and very active in their practice design to work more on the muscular part of the body. Yin Yoga is the opposite. Yin Yoga works on another deeper layer of our soft tissue that involves our muscles, ligaments and bones called fascia. Yin Yoga is a gentle but very powerful practice that works deeper into the fascia network system of your body.
Yang is everything that moves quickly, the fire, the sun. Yin is the slow, the calm energy, the water, the moon. Everybody has the Yin and the Yang energy Chi in within themselves. The Yin Yoga practice consists of specific poses that are held in stillness between 3 and 5 minutes to promote an elongation of the fascia being worked on in each pose, that also activates the energy chi to flow better in these areas. The practice of Yin Yoga goes beyond a physical work, it helps to promote a physical, emotional and mental equilibrium in your body
 Yogalates
This unique combination of yoga and pilates is designed for anyone looking to improve their posture, flexibility and core strength in a safe environment.  This class is instructed by a physiotherapist trained in both yoga and pilates and utilizes aspects of both to achieve desired goals.  Great for sufferers of back/neck pain due to work, studying or too much screen time.  Also great for those with scoliosis or as injury prevention for sport.
Clinical Pilates and Strengthening Session Fees
Pilates Mat/ Ladies Safe Strength/Yogalates
Casual $20
10 session pass $175
Pilates Equipment
Casual $30
10 session pass $275
Yin Yoga
Casual $15
Private Health Insurance Rebates for Clinical Pilates
For clients who are attending pilates for specific injury rehabilitation, private health rebates may apply under a "Group consultation" code.  An assessment must have been performed by your physiotherapist prior to claiming a group consultation code.
If it is a non specific class you are attending, then the "class consultation" code is applicable and may not be covered by all health funds.  You would need to check with your health fund for more information.